NEWS.
* The folks at
Cherry Red Records
continue reissuing the best of the best. Coming early 2023 is a six CD box set featuring the complete EMI recordings from
babysue
favorite
The Auteurs
. I've been in love with this band's music since it first hit my eardrums. Entitled
People Round Here Don't Like To Talk About It
, this will be one of those 'must have' releases. Perhaps it will turn more people onto this criminally underrated band. * Speaking of Cherry Red . . . again . . . the label surprised me with the release of a triple CD by none other than...
Doris Day
(?!). It's a deluxe expanded reissue of the album
Latin For Lovers
, so fans will no doubt be grabbing this one up quickly. Ms. Day will probably
never
be properly noted for being the exceptional vocalist that she was, but it's reassuring to know there are some keen folks out there who realize how incredible her voice was. *
Mrs. Ammonia
bought a can of monster lobster in Tokyo and the whole entire damn thing was caught on video. Everyone is talking about it, including
Mr. Ammonia
and the pokey little dilly wickets. *
Little Timmy Boatmilk
has been testing serving portions of choo-choo booters and porridge pie. Every test has come back as a major task, involving twenty-three peculiar dimensions that are difficult
and
ensuring. Now that's something worth registering daily for your pork chops in Milwaukee. * A teeny tiny kitten that had almost no hope of survival was adopted by a couple in Kansas and now everyone is happy. * Electricity will disappear in 2024. * Hoards and hoards are buying expensive tickets to events that ought to be avoided. * Until recently I had, unfortunately, forgotten all about
Fat Freddy's Cat
. Created by the one-and-only
Gilbert Shelton
, the comic strip is without a doubt one of the funniest ever created. I was pleased as punch to find (and quickly order) a thick book subtitled
Omnibus
that features nothing
but
the antics of Fat Freddy's Cat. Released in 2009, this book starts my 2023 on the right sort of footing and allows me to focus on things that are
truly worthwhile
in the twenty-first century. *
Ted Russell Kamp
will be back on the road touring the globe early this year. Like so many, his career was sidetracked a while back by the dreaded wave of Covid-19 that was sweeping the planet. * Everyone is tossing their smartphones in the garbage now that they realize the devices are nothing more than annoying distractions in their lives. * Lively bunnies chatter and hop. They chatter and hop and skip and play. And no matter they do, they just keep on doing it anyway. All the live-long day. * Not the most interesting topic in the universe, but I just switched my website(s) to a new hosting company. My pages now load super fast and I'm not constantly bombarded with ongoing headaches and problems (and extra charges) like I was for years. If you've been staying with the same host for a very long time, you might want to look at what is being offered out there now and make a switch. The difference in the new hosting companies and the old ones is
staggering
. * It sure would be nice if there was a major resurgence of interest in
Robert Wyatt
's music right about now. This mindblowing fellow created music that is like no one else and is one of the most genuinely gifted artists the world has ever known. If you've never heard Wyatt's music, I highly recommend all of his albums. They are truly fantastic. * Got my copy of the latest album from
The Silent Boys
entitled
Sand To Pearls, Coal To Diamonds
. The first to be released on the
Too Good To Be True
label, the album features a cool greeting card-style cover and, of course, more great tunes. * Also received from
KG Music Pres
s (
a place known for consistently good taste
) is a new release from
New Earth Farmers
entitled
The Good Ones Got Away
. *
babysue
favorite
Barry Schrader
is back with another new album entitled
Lost Analog
(on the
Ex Machina Productions
label). * Also received the nifty album
Concurrent Sentience
by
Coulter Hamilton
(on the
Kreating SounD
label). This creative duo is comprised of
Ron Coulter
and
Sean Hamilton
. * Also received two new releases from the
Treated Released
label (
great name there
). The first is from the band
Bananafish
, entitled
Boston Bananafish
and the second is
Reverend Freakchild
's
The Bodhisattva Blues
. * Received a whole stack of super cool new releases from the always wonderful
Public Eyesore
label (
one of my all-time favorites
). The label's latest releases include
Xerex Meets Dracula
,
Leslie Keffer
's
Perceive
,
Leslie Keffer & R. Stevie Moore
's
I Wish I Could Feel
,
Illusion of Safety & Ze'v
's
If There Is No Doorway, One Must Break Out Through The Wall
(available on both CD & vinyl),
Collision Stories
'
Avant L'Obscurite
(on San Francisco's
Charnel Music
label) and
Paroxysm
:
A Benefit Compilation for Leslie Keffer
. * It's been 40 years now since I first started the band
LMNOP
(now aka
dONW7
). I thought about making a big deal about it and barking loudly to the world. But then I realized...
that's just not who or what I am
. So only you (the select few) will have a clue that yours truly (a misinterpreted underground weirdo) has been creating stuff for four decades (actually longer if you count all previous projects that came before). For better or worse, my confusing creative output over the years has been an integral part of my peculiar and unpredictable muted life. * Coming soon on the
babysue
website is an in-depth interview with
Roger Houdaille
of the band
Ex Norwegian
. *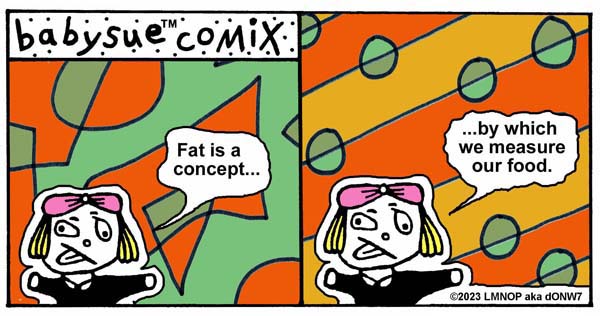 1975-1976 Recordings Have Been Digitized.
The final -- and
weirdest
-- obscure recordings from my high school years have now been digitized. By the time I graduated from high school, I had already recorded over a dozen albums by several different one man bands. The music on these tapes has never been heard by anyone other than a tiny handful of school mates in the 1970s. My final high school band was particularly bizarre. By this time I was engaging in a process known as
sound on sound recording
, whereby tracks were bounced back and forth from left to right and right to left on a cheap reel-to-reel recorder in order to create multi-tracked songs. Of course there was a severe loss of sound quality each time. Because they are so rough, I have kept these tracks hidden in the
babysue
vaults. Listening to these songs and recordings during my recent digitization project made me realize that some of this stuff is (
surprisingly
) kinda interesting. It's amazing that the tapes still played at all (?!). Some of the songs are extremely raw, harsh and peculiar. My former self (the oddball kid that I hardly know now) was one hell of a stressed out teenager. Some of his/my music is so bizarre that even I don't know what to make of it now. Keep your ears/eyes peeled, as some of these oddball songs (and more) will be coming through the pipelines soon. I may even make new recordings of some of the better compositions.