About / Contact Store Poetry Recipes Policies T-Shirts



aka







Also now streaming on Apple & Soundcloud.

whatNOP dONW7 album review on Great Britain's Maximum Volume Music.
Click HERE to see / hear the new album.
CD available on Bandcamp for $7 and on eBay for $10. FREE shipping WORLDWIDE.

August 2021:
"Know" video, babysue Comics, Poems, News & Notes About "Things"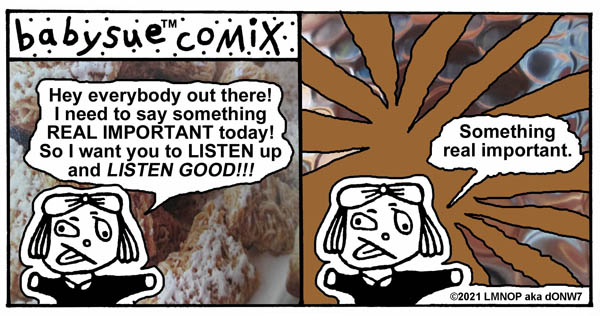 DOOR

When one door closes
Two thousand more
Close
whatNOP dONW7.
The new LMNOP album whatNOP dONW7 is now out everywhere. See the video for "Know" (above). Questions regarding the new album can be directed to the cool people at Devious Planet.





CHEESE


Everything is please
When for covering
With cheese.



REFLECT


Connections
That don't connect.
Reflections
That don't reflect.

News, Views & Schmooze.
A collection of news snippets, blurbs and random thoughts.
If you've never heard the band Kazyak, now is the time to experience their wildly entertaining psychedelic / progressive music. They have a new single out called "Nomad" which will be on their new album coming in December 2021. The new album is called Hand Me Down is sure to be as mesmerizing as their last. The Kazyak guys have been doing some really intriguing live performances on YouTube recently that you need to see and hear. This month I was turned onto a cool trip hop song on Soundcloud by Grand Prize called "Mirror Image." The band is the musical project created by Anthony St. Juan. "Mirror Image" is a really cool track with a hypnotic rhythm...and the strings intertwined with the stream-of-consciousness vocal track sound strangely soothing and peculiar. Y'know, as time passes I learn to ignore more and more. And the more I ignore the happier I seem to be. So perhaps the phrase 'ignorance is bliss' really is true. Or maybe not? heh heh heh... In any event, the less I care about dumb shit the less I feel the need to care about it. Tuning out of the news has helped immensely. Ro Halfhide has a new album out called Paint The Town. This guy has an amazing ability to write great melodies. Instantly friendly sounding guitar pop/rock that's immediately different and cool. Love it. Guitar vituoso Robben Ford has a new album coming out this month entitled Pure. This one's entirely instrumental and it's bound to be an entertaining experience. Author Bill Kopp (who runs the Musoscribe website) has a new book coming out this year entitled Disturbing The Peace: 415 Records and the Dawn of New Wave. Considering Bill's extensive knowledge of music, the book should be an enlightening and eye-opening experience. Remember the band Enuff Z'Nuff? A favorite among many listeners (including myself), the band is releasing a new 3 CD or 4 LP box set that will definitely be a must-get-your-hands-on-it kinda thing. It's called Never Enuff - Rarities and Demos and it will feature a whole slew of the band's demonstration recordings from the 1980s. I know this one will be interesting. I was so bummed when I found out that Atlanta's Stomp and Stammer magazine / website is no more (apparently another casualty of Covid-19). The magazine was well respected everywhere and one of my ongoing favorites for many years. Editor Jeff Clark is a genuinely amazing fellow and I am sure whatever he does next will also be amazing. I just became aware of what looks like a super cool establishment in Garner, North Carolina called Lorraine's Coffee House & Music. From what I'm seeing and hearing, the ladies running this place love what they do and are having a blast. It's a restaurant/cafe/coffee house that also features bingo and live music. This place looks like triple F-U-N all the way around. The next time I'm in the area I will be sure to visit. The Italian band Celeb Car Crash has a now album out called The World Is Busy, Try Again Later. Talk about a timely title (!). On this album, the band collaborated with Steve Albini and Giovanni Versari (Muse). Roger Chapman has a new album out called Life in the Pond. Released by Germany's Ruff Records, the album features eleven new recordings. Chapman will forever be etched in people's minds as the unique voice for the band Family. But his influence actually reaches far beyond that iconic 1970s band. Because of my current involvement in video production I'm way WAY behind in my listening activities. But when I get back to that, at the top of my list will be Distant Dream by guitar pop icon Jeremy Morris. Produced by Ken Stringfellow, all opinions (that matter) seem to agree that this is one of Jeremy's best albums ever. And considering the magnitude and scope of this guy's recordings that's saying a LOT. We just received the latest album from the Canadian band Smaller Hearts. We haven't listened yet, but we're certain Attention will be another wonderful listening experience because everything we've heard thus far from these folks has been fantastic. In the extremely interesting and timely department...Pocket FishRmen have a brand new album out on the Saustex label called "We Are Masters of These Levels" (great title). We've always loved this band's smart buzzsaw pop with a decidedly peculiar sense of humor and we're mighty glad to see they've recorded some new tunes. Y'know, it seems ironic that in many cases you have to go outside the U.S.A. to find out about the best music being made in this country. One of the most exceptional blogs I've come across in a very long while is the Sweet Sweet Music Blog which is based in The Netherlands. The blog/website is the ongoing project created by Patrick Donders, a man who has his fingers squarely on the pulse of the best music currently being created all around the world. Mr. Donders constantly unearths bands and artists that are credible and original in a way that is completely genuine and sincere.



SAMEY


Samey him.
Samey her.
Samey dull
Generic blur.

About "Things"...
As originally conceived the song "Things" was not specifically about people or material things. The words just fit the melody. It was only later that I realized the chorus could be taken two different ways. Yup, I know there are plenty of goofs and errors in the video. Not concerned about 'em. Having a doorway obviously visible in the background of what is supposed to be a live performance? Horrors. Gosh, someone might actually figure out (gasp) that I was jumping around my living room like a neurotic speed freak. This was my first 'real' music video so that's my excuse. The previous one ("Nuclear Trust") was pretty much a lyric video so it doesn't really count. And the few videos I did a few years back were just spontaneous live tracks. But back to the goofs and errors. In the same vein as the songs, I allow plenty of room for accidents and mistakes to occur. My main goal is to get the right visual feel. Any glitches or errors that occur along the way are, to me, part of the fun of being spontaneous. But maybe I'm just saying that because I don't have a big budget to do perfectly produced visuals (?). Nah, that's not it. Even if I did have an unlimited budget I would still want rough edges. Perfection is boring. Tell you what though...with wigs laying around all over the place, the ultra plush babysue office suites started looking like a transvestite's practice space -- which is weird, because if there's anyone who is not a transvestite it is yours damn truly. I don't wanna impersonate a woman. But I don't mind impersonating a freak at all. Yack yack yack. Okay enough about that already...