June 2013 Comics, Recipes, and Reviews from


aka

*Top Picks =

Advent Horizon - Immured. (Independently released CD, Pop)
Wow. Can these guys play...or what...??!! The origins of the band Advent Horizon began years ago when thirteen year old pals Rylee McDonald and Mike Lofgreen realized they both shared a mutual admiration for the band Rush. The band evolved from that point and is now writing and recording professional rock tunes that could be enjoyed and appreciated by millions. Advent Horizon is currently a quartet and also includes Cason Wood on bass and Levi Benjamin Shell on guitars and backing vocals. Immured bears some resemblance to the previously mentioned Rush (intelligent fast guitar riffs, driving bass lines, etc.)...but the vocals are way better (the harmonies are killer...). The complexity of these songs is impressive and strangely compelling. These guys have obviously done their homework...their songs are smart and memorable...and the playing is absolutely top notch from start to finish. Cool rockers include "Justified," "The Paradise," and "Prince of White."
All In The Same Boat - All In The Same Boat (CD, Big Hit, Country/pop)
You may not recognize the name of this band but you already know the guys who are in it. All In The Same Boat is the collaborative project created by country superstars Aaron Tippin, Joe Diffie, and Sammy Kershaw. The three decided to record this album together after their recent string of concerts generated such a good response...in addition to the fact that all three truly enjoyed the experience. This self-titled album features new songs, re-recordings of past hits, and even a cover of Neil Young's "Heart of Gold." These guys obviously still have a sense of humor about what they're doing...and from the sounds captured on these songs it sounds like they all still genuinely enjoy writing and recording. If you're a fan of any or all of these three artists then this will be a must have for you. Twelve gutsy tracks here including "All In The Same Boat," "Kiss This," "On And On," "Misery Loves Company," and "Old Friends."

A Million Pardons - Best Laid Plans (CD-R, Wunk Rock, Rock/pop)
A Million Pardons is a side project created by Nate Olson who is probably best known up to this point in time as a member of the band The Killigans. Best Laid Plans is chock full of instantly friendly pop/rock tunes featuring catchy melodies and intelligent lyrics that occasionally remind us of Ben Folds. Olson has a great knack for coming up with solid melodies...and he's got a voice that seems tailor made for the type of songs he writes. All ten of these tracks are originals...and they all have something substantial to offer. The more we spin this one the better it sounds. Standout cuts include "B J Lee," "Broken Strings," "Where I Want To Be," and "Faster." Click on the link above to go the The Killigans' web site.
Beat Funktion - Moon Town (CD, Do Music, Pop)
The second full-length release from Sweden's Beat Funktion, a six piece group whose music is directly influenced by 1960s and 1970s funk and soul. Begun in 2007, the band is currently comprised of Karl Olandersson (trumpet), Olie Thunstrom (tenor saxophone), Johan Oijen (electric guitar), Daniel Lantz (piano, Rhodes, organ, Moog), Pal Johnson (electric bass), and Jon Eriksson (drums). Containing both originals and well-chosen cover tunes, Moon Town is a concept album "...telling the dark tale of a fictitious sci-fi city oozing with criminality, suspenseful action, drizzling rain and surreal inhabitants." The overall sound and mood of these tunes fits this description. Beat Funktion could possibly best be described as a groove band. These guys record music that commands body movement...and this is no doubt why their live performances have become very popular. Nine groovy tracks here including "Kareem," "City Lights," "The Great Escape" (a particularly appealing cut), and "Driver's Seat."
Beijing - Night (Independently released CD, Pop)
Thick and intricate underground rock/pop from Branford, Connecticut's Beijing. This band is comprised of Bill Pruchnicki (drums), Eric Thornberg (vocals, guitars), Jack Hoopingarner (bass, vocals), and Thom Smith (guitar, synth, vocals). These guys' music is a far cry from the generic mass of digital recordings where everything is tweaked to perfection Or, to put it more simply, these songs sound rough and raw. And in the world of rock music that is a very good thing indeed. This album features intense fuzzy guitars in overdrive, groovy driving rhythms, and spacey vocals with real presence. These guys can really play...and they have a sound that is immediately gripping and intense. Groovy cuts include "Acrobat," "Broken Glass," "Silence," and "Open Arms." You can bet your booties these men put on one helluva show. Solid exciting stuff...
Big Star - Nothing Can Hurt Me (CD, Omnivore, Pop/rock)
The little band from Memphis that was so severely overlooked during it's brief creative period in the 1970s...now hits the big screen in a feature-length documentary. So many artists, bands, and fans now proclaim Big Star as being one of the most important pop bands of all time. But few remember the lean years when the guys in the band were struggling really hard just to try and make things work...before finally deciding to call it quits because people just weren't supporting them. This, the soundtrack album features twenty-one tracks that have not been previously issued. Included are demos, movie mixes, alternate mixes, monitor mixes, and rough mixes. If you're a Big Star fan you'll definitely want to get this. Even though we've heard most of these songs more times that we could ever count, for some reason there's still something fresh and exciting about them. The film traces the band all the way from Alex Chilton at sixteen shooting to stardom in the 1960s as a member of The Box Tops...right on through to the sad passing of Chris Bell in 1978. The nice part about this band's peculiar rise to superstardom...is the fact that the band members eventually received the recognition they so obviously deserved. Another eye-opening...and mind expanding...look back at one of the greatest pop bands ever. Top pick.


Borgia - Original Soundtrack: Music Composed by Eric Neveux (CD, Silva Screen, Soundtrack)
We've become big fans of releases on the Silva Screen label over the past few months. Instead of releasing music from the latest big budget films, the label seeks out and releases soundtracks that may have been forgotten or lost or that otherwise might not be available to the public. Created by the Emmy award winning writer Tom Fontana, Borgia is a television series that tells the story of a corrupt dynasty. This album features original compositions created for the series by Eric Neveux. The disc features twenty-two tracks of expertly created music. The tracks express a multitude of moods...so that the listener experiences feelings of serenity, excitement, curiosity, and intrigue. The pieces are performed by the Philharmonia Orchestra...and under the supervision of conductor James Shearman they come across sounding genuinely inspired. This music is no doubt one of the integral pieces that has drawn so much attention to Borgia. Interesting reflective tracks include "March To War," "Apostolic Palace," "Return of the Good Fortune," and "The Will of God."
The Bottle Kids - Such A Thrill (CD, Kool Kat Musik, Pop)
Man oh man does THIS one hit the center of our target...! We're longtime gushy fans of upbeat bubblegummy guitar pop...so this album immediately caught our attention in a big way. The Bottle Kids is the one man band created by Eric Blakley...a fellow with an incredible knack for coming up with ultra-catchy bright melodies. The guitar-based tunes on the appropriately-titled Such A Thrill have that great magnetic quality that made us fall in love with bands like The 1910 Fruitgum Company and Ohio Express years ago. Admittedly, however, Blakley's songs are much more mature than such a comparison might suggest. We've been on the lookout for some great music perfect for driving around to yard sales this Spring...and this is IT. Killer tracks include "Kissing You" (wwwwwoooOOOW!), "I'm In Love With You," "Take Off That Dress," and "Clap On" (yet another wwwwwwooooOOW!). If you're looking for upbeat catchy pop you won't do much better than this in 2013. Highly recommended... TOP PICK.


Creed Bratton - Tell Me About It (CD, Alien Chicken, Audio biography/pop)
Hmmm...this is a different sort of album that's not easily summed up in a few words. When Tell Me About It began we were concerned that it was going to be a spoken word affair (something we're rarely fond of). But it wasn't long before things morphed into something more intriguing and real...and before we knew it we found ourselves being strangely drawn into the music of Creed Bratton...who is probably best known as one of the characters on the popular television show The Office. We have to really admire the person or persons who sent us this CD. Instead of immediately smushing it into our faces that Bratton is an actor on the television show (which would be the easiest and most obvious hard sell way of presenting this album), this fact was not mentioned at all in our package. In fact, we had to visit the Creed Bratton web site (click on link above) to find that this talented man is not only a musician but an actor as well. Plus a little more investigation also revealed this man was one of the original founders of The Grass Roots (!). Tell Me About It features keen introspective songs that incorporate elements from folk, Americana, and pop...intelligently combined with super smart lyrics that are reflective and real. Bratton's music could easily appeal to a wide cross section of listeners. Very cool.
Jay Brown - Soul To Soul (Independently released CD, Folk/blues/pop)
At a point in time when so many folks rely more on technology than talent, we have to admire the people out there in the world who are making real music the good old fashioned way. Jay Brown's music is instantly appealing...and we can tell that this talented fellow writes and records for all the right reasons. Brown's soul and spirit may remind many listeners of James Taylor way back when he was just getting started. The songs on Soul To Soul are mainly driven by a precisely strummed/picked acoustic guitar...and at the heart of the music is Jay's wonderfully resonant voice. Recorded in both Birmingham, Alabama and Asheville, North Carolina, this album has nice warm vibes...and is virtually impossible to dislike. Brown's honest friendly voice is welcoming and real...and his music is bound to please those who yearn for something personal. Twelve groovy cuts here including "Soul To Soul," "We're Rollin'," "Carmela," and "Documentation Blues." With the right timing and a bit of luck...this guy could become hugely popular.
Jen Chapin - Reckoning (Independently released CD, Urban folk/soul)
New York City's Jen Chapin describes her music as urban folk/soul...which is a good way of describing the overall sound and mood of the songs on Reckoning. Although probably best known up to this point in time as the daughter of folk icon Harry Chapin, Jen is by no means riding on the coat tails of her father. This, her latest full-length release, was recorded, mixed, and produced by Grammy Award winner Kevin Killen who has worked with dozens of high profile celebrities including Elvis Costello, Peter Gabriel, Tori Amos, and Kate Bush...and that's just the tip of the iceberg. So...who or what does Chapin's music sound like...? Hard to say really... The urban folk/soul description certainly seems to fit...but she really seems to be creating her own sound on this album. Her voice is unusual in some ways. Rather than mocking others or trying to sound like anyone in particular, Jen seems to just let the words and melodies flow from her heart...which may explain why this album comes across sounding so genuine and inspired. Her songs seem to be drawn mainly from her own personal experiences. Some real heavyweights lent their talents to these recordings...and the well-crafted arrangements add a great deal of depth to the overall sound. Eleven soft moody cuts here including "It's All Right," "Paris," "Reckoning," and "Gospel."
Albert Collins - Alive and Cool Plus (CD, Angel Air, Rock/blues)
This concert from 1969 is one of those where you wish you could've been a fly on the wall. Alive and Cool Plus is a live recording of a concert at the Fillmore West in San Francisco, California in 1969 which featured Albert Collins, Creedence Clearwater Revival, and Fleetwood Mac. Talk about a mind-blowing triple bill (!). (An interesting note about this recording is that Jeremy Spencer from Fleetwood Mac taped Albert's performance through the deck.) Collins was, at the time, experiencing a great deal of interest from the rock and roll community...and he was probably at his creative and artistic peak. As such, his playing is particularly riveting and inspired. The sound quality is a bit strange which means that this particular recording may be most appropriate for Albert Collins fanatics. But the bonus tracks more than make up for the sound quality of the live show...six singles Collins released from 1958 to 1962 (wowwwwww...). The folks at Angel Air continue to locate and make available recordings that otherwise might never see the light of day. This is a great reminder of how great this legendary guitarist was...and how many musicians he has influenced over the years.

Nate Currin - The Pilgrim (CD, Archaic Cannon, Pop)
The sophomore album from San Francisco, California's Nate Currin. The Pilgrim is a lyrical and musical interpretation of the book of the same name that was originally published way, way, WAY back in 1678. But even though this album is based upon a religious work it is not intended to be a religious album. Probably more spiritual than religious. Originally from Atlanta, Georgia, Currin has been slowly but surely making a name for himself over the past couple of years. This will probably be the album that puts him on the map. The Pilgrim features incredibly warm and genuine songs that were obviously written and recorded for all the right reasons. Nate's got a cool and genuine masculine voice that is immediately gripping and appealing. His lyrics are smart...and his songs seem to come straight from the inner reaches of his soul. Hard to believe this man is still an underground artist...because he has a sound that could easily appeal to millions of listeners. Eighteen captivating cuts here including "City of Destruction," "Footsteps At My Back," "A Companion and a Fool," and "Celestial City." Top pick.


Elusive Parallelograms - Fragments (Independently released CD EP, Progressive rock/pop)
Ahhhhhhhhh....more unpredictable and ultimately far reaching creative music from the fine fellows in the vastly underrated Elusive Parallelograms. We've loved every single release we've heard from this super cool band...and Fragments is yet another superb addition to their continually growing catalog. This peculiar little EP begins on a peculiar note with (unless our disc is defective) a totally blank track (?!). But once the second cut ("Lucidity") began ...we realized that these guys are by no means throwing a curve ball here. These songs are thick and energized and feature wonderful winding melodies and rhythms that are absolutely addictive. We highly recommended anything/everything you can get your hands on by Elusive Parallelograms... Highly recommended stuff...! Top pick.


Et Tu Bruce - Suburban Sunshine (CD, Worldwide, Pop/rock)
The guys in London, England's Et Tu Bruce have a great word-of-mouth buzz going...and Suburban Sunshine is going to heat up the flames even more. Formed in 2010, the band is comprised of Craig Bruce (drums), Darryn Bruce (bass), Matthew O'Toole (vocals, guitar), and Jamie White (vocals, guitar). The band has been gaining tons of fans lately due to their recent tour opening up for The Zombies (lead vocalist Jamie is Chris White's son). The songs on this album are classic pop in nature, heavy on catchy melodies and groovy sounding guitars. The band's music has thus far been compared to artists such as The Byrds, The Beach Boys, Foo Fighters, Wilco, and The Kinks to name a few. Fans of pure pop will find a lot to love here. These songs are well thought out and have plenty of strangely familiar qualities that make them instantly likable. These cool upbeat tunes should appeal to music fans of all ages as the overall vibe is friendly and timeless. Ten kickass pop/rockers here including "Dress Me Up In Bruises," "Miracle Crash," "The Turning of the Screw," and "It's All Nothing."
//EXIT// - The Blind Alley (Independently released CD, Progressive pop/rock)
Exit is the band/project created by Austin, Texas-based artist Ben Londa. In the press release that accompanied this album, the music is compared to other bands like The Church, The Cure, Red House Painters, and Nine Inch Nails...so that should give you some idea of where this man is coming from. The tracks on The Blind Alley feature thick arrangements, hypnotic rhythms, and subdued moody vocals. Ben's songs lie somewhere along that thin line that separates the accessible from the artsy. These songs could easily be appreciated by a large audience...but they bear little resemblance to the commercial dreck that seems to appeal to so many shallow listeners out there lately. These songs remind us in many ways of babysue favorite Starflyer 59 because the overall sound is rather dreamy and provocative. Ten keen reflective cuts here including "The Drain At The Bottom," "A Fractured Gesture," "Body," and "The Door." The lyrics on this one are particularly cool.
Greta Gaines - Lighthouse & The Impossible Love (Independently released CD-R, Pop)
Greta Gaines has been recording and releasing music for almost fifteen years now...and from the beginning she's taken a somewhat different approach to stardom. Her first major achievement came in 1992 when she became the first Women's Extreme Snowboarding Champion. Since that time she's been a visible personality on both the sports and music horizons. Since releasing her first album in 1999 her music career has been moving continuously forward. Greta's got the voice and presence that could easily take her to the top. Lighthouse & The Impossible Love features ten upbeat guitar-driven pop/rock tracks...and they all sound like potential hits. Gaines has a sound and style that should immediately appeal to fans of Sheryl Crow...but she's actually a lot more ballsy than such a comparison might imply. And man oh man...what a voice. Interestingly, Greta also has her own line of T-shirts and hemp food and skin care products available at Cannibuzz (!). Lighthouse is likely to be an instant hit among music fans. Catchy upbeat pop/rockers include "Door 2 Door," "Ordeal By Water," "The Quickening," and "Rewind."
Pete Galub - Candy Tears (CD, Dove & Pigeon, Rock/pop)
We have to admit...that whenever we hear really cool guitars we turn into a sloppy pile of mush. So...it wasn't long after we slammed Candy Tears into our player that we began the mush transformation. Up to this point in time, Pete Galub has probably been best known as a guitarist/bass player for The Human Hearts, Amy Allison, and The Silos. But after hearing Candy Tears...if you're like us you'll be scratching your head wondering why this guy hasn't been in the center of the spotlight all along. Recorded by Martin Bisi and mixed by Bryce Goggin (both of whom have worked with big name classic artists), this album resonates with cool vibes from start to finish. Instead of aping other artists, Galub creates his own unique sound...and the results are nothing short of amazing. As previously mentioned, the guitars on this album are dynamite. But that's just the tip of the iceberg. The songs themselves are way, way, way cool...never sounding calculated or commercial...and yet they have have strange qualities that are instantly familiar and warm. And we totally dig Pete's voice...always spot on and he never sounds forced or contrived. Candy Tears is...in a word...BRILLIANT. We just can't get enough of kickass tracks like "Reacquaintance," "Crying Time," "Feels All Over," "Waiting," and "Boat." Highly recommended. TOP PICK.


Jerome David Goodman - Collected Music of Jerome David Goodman (CD, Navona, Classical)
This is a retrospective collection of compositions from the past two decades featuring music created by Jerome David Goodman. These four musical segments present recordings by the Czech Radio Symphony Orchestra, the New Slovak Quartet and Double Bass, the Prism Quartet, pianist Ron Dank, and violinist Jana Herajnova. Goodman's compositions are well thought out and they create definite moods in the mind of the listener...perfect mental food for contemplation and/or reflection. The album is divided into four sections: "Montsegur Suite," "Three Piano Preludes," "Saxophone Quartet," and "Violin Concerto." So...no matter what you're in the mood for...there's probably something here that will hit the target. The folks at Navona continue providing an excellent service to music fans by promoting lesser known modern classical composers whose music would otherwise not reach a larger audience. This 73+ minute album is sure to make many more fans aware of this important man's contributions to the world of classical music.
---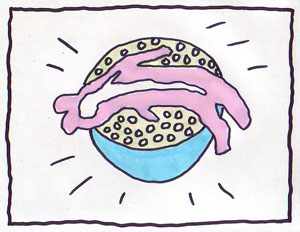 GRAPE NITS WITH PORK MILK
Ingredients:
2 Big Things of Grape Nits
1 Blended Sugar Thing
4 Cups of Pork Milk
1 Small Mice

Here's an easy thing that's an easy thing to fix and it's a good thing because it's a thing that's really good. And the ease of preparation is a breeze as well...for all kinds of things! Grab four bowls and place them all in a line. Then grab you up some of them there BIG THINGS OF GRAPE NITS and pour into the bowls...making sure there's an equal amount in each one so that your guests don't get angry and beat up one another. Gently pour the PORK MILK over the nits and allow to sit for two minutes. Then grind up the BLENDED SUGAR THING over the top of each one so that it creates a gentle layer of something on top. Then quarter up the SMALL MICE using your sharpest cutting knife and put one warm juicy slab over the top of each enchanted bowl. Serve cold to anyone who has no idea of what's going on.
---
Gunnelpumpers - Montana Fix (CD, Spiritflake, Progressive/improvisational)
More critically challenging and creative music from the folks in Gunnelpumpers. This band is driven purely by artistic integrity. Instead of making music with the intent of making money or becoming famous, the folks in this project obviously make music because it provides a sort of internal gratification. This, the fourth full-length album, features close to 80 minutes (!) worth of music...and each and every second is interesting and provocative. These nineteen tracks were created over a two day period...with most of the pieces being recorded live in the studio with only minimal overdubs. There's a lot to take in here...which means you can spin this one for weeks...months...years...and still find something new that you might have previously missed. Our initial favorites include "Bolander," "Smokeblossom," "Montana Fix," and "Earthling"...but those favorites may change over time. As an interesting side note, included in our package was a Pieceless Puzzle which provides "endless fun - never lose a piece" (haw!). Actually it's more like a coaster or a miniature mouse pad (that is not divided into pieces)...but it's a great little novelty that sure caught our attention. Yet another intriguing release from Gunnelpumpers.
Steafan Hanvey - Nuclear Family (CD, Honeyworks, Pop)
Ireland's Steafan Hanvey is one incredibly smart and talented fellow. This man impressed a lot of folks a while back with his debut album Steafan Hanvey and The Honeymoon Junkies. This is his second full-length...and he's really outdone himself this time. Self-described as "...the closest thing you're going to get to a concept album without actually being a concept album," the songs on this disc deal with the constructive and destructive forces present in most family relationships. Complex stuff...but the way it's dealt with here you'd never know it. Nuclear Family presents smooth smart modern pop compositions with a heavy emphasis on melodies and arrangements. These tracks were recorded in Paris, Helsinki, and Dublin and the album was mixed by Tore Johansson and mastered by Manday Parnell...so you know it sounds incredible. A wealth of talent is present here supporting Hanvey...but the overall sound is never too dense or heavy handed. Steafan has the skills and the voice to go all the way if he chooses to do so. This album is slick, smart, inventive, genuine, and pure. Interestingly, the folks at NPR are working on a multimedia documentary about Steafan and his father that is supposed to be broadcast on Father's Day this year. Ten killer tracks here including "Secrets and Lies" (there's a really cool video for this one that features old family movie clips), "Marta's Always Going Home," "Only My Frown," and "Into Your Sun." Highly recommended... TOP PICK.


Harmful If Swallowed - Allergy (Independently released CD EP, Rock/pop)
Loud buzzsaw rock/pop played with guts. The guys in the Los Angeles, California-based band Harmful If Swallowed play a brand of fast guitar pop that is very reminiscent of underground rock bands in the 1990s. This six song EP is an adrenaline blast as the band displays their solid control over their instruments. The rhythms are tight and danceable...and the vocalist has a great voice that reminds us very much of babysue favorite 1990s band Bracket. These guys have apparently already caught on big time around their hometown. Now with the release of Allergy they seem destined to transfer that success to other parts of the country. Our favorite cuts include "Far From Here," "Allergy," and "Recession." Good stuff that delivers a nice hard kick.
Allan Holdsworth - FLATTire: Music For A Non-Existent Movie (CD, Moonjune, Progressive/instrumental)
Reissue of the eleventh full-length release from Allan Holdsworth that was originally issued in 2001. This was Holdsworth's first unaccompanied release and was recorded using the Synthaxe guitar synthesizer (which he used to play bass, strings, chords, and also to trigger drums). So even though this is a project recorded by an individual...it sounds more like a band than a single individual. The appropriately-titled FLATTire: Music For A Non-Existent Movie combines sounds from progressive rock, atmospheric, and jazz...and offers compositions that do, indeed, sound very much like a film soundtrack. Some of the music gets rather trippy and spacey...and those are the ones that tend to be our favorites ("Snow Moon" and "Don't You Know" are particularly gripping). Hats off to the fine folks at Moonjune for making the wise decision to make Holdsworth's solo albums once again available to the public. Housed in a simply designed black and white triple fold cardboard sleeve.
Jont - Hello Halifax (CD, Unlit, Soft folky moody pop)
Originally from Great Britain, singer/songwriter Jont now lives in Halifax, Nova Scotia...and the way he ended up there is kinda unusual. In 2012 he discovered that he had an eight year old daughter living there...so he quickly made up his mind to move so he could be near her. Jont has been writing and recording since 1998 and has thus far released seven full-length albums. Many folks were turned onto his music due to musical exposure on the Grey's Anatomy television program as well as a song being included in the popular film Wedding Crashers. This is the first time to our knowledge that we've been turned onto this young man's music. Hello Halifax is instantly warm and appealing. Jont's songs are subdued, somewhat folky, and ultimately very personal. The main emphasis is on vocal melodies and lyrics...although the arrangements are also integral to the overall picture. Jont has a really cool deep voice that is calming and thought provoking. Eleven super smart tracks here... Our favorites include "Church On Sunday," "Hurt To Love," "Two Days In," and "Same Record Again." The more we spin this one the more it sticks in our minds... Top pick.


Serena Jost - A Bird Will Sing (Independently released CD, Pop)
Another instantly engaging album full of beautiful tunes from New York City's Serena Jost. Produced by Anton Fier, A Bird Will Sing has a nice big open spacious sound that incorporates sounds from the past as well as the present. Jost wrote all but one of the eleven tracks...and they all have something rather remarkable to offer. Instead of writing or playing one particular style of music, this enchanting artist delves into all sorts of musical terrain...incorporating ideas from folk, progressive, pop, rock, and jazz into her music. Jost has a really cool voice that is somewhat reminiscent of classic artists from the past like Mary Hopkin and Sonja Kristina (Curved Air). The backing band is comprised of Julian Maile (guitar), Rob Jost (bass), and Robert DiPietro (drums)...and their contributions to the overall sound are substantial and involved. Many readers will recall that Serena was once one of the original members of the band Rasputina...so if you loved her cello playing then you will also be rewarded with more of those exquisite skills now. This inventive and unusual album will surely be well received by those fortunate enough to hear it. Inspired cuts include "Stay," "Fly," "Nearly Beautiful," and "Great Conclusions." Top pick.


Kleenex Girl Wonder - Let It Buffer. (Vinyl LP, This Will Be Our Summer, Pop)
This is the twelfth full-length release from Kleenex Girl Wonder (!?!!). We have to admit that we haven't heard anything from this band in quite some time...but when we were initially turned onto the music years ago we were mighty impressed with Graham Smith's songwriting abilities. The years have apparently been good to Smith and his band...because Let It Buffer is an absolutely gripping collection of super catchy modern pop classics. Joining Graham on this album are Thayer McClanahan on guitar and Matt LeMay on drums...both of whom provide a super solid foundation for the cool soaring pop tunes. This cool vinyl LP includes a foldout lyric sheet and a card for a free download from the folks at This Will Be Our Summer. Sinfully catchy songs include "Migration Scripts," "Overnight To Many Distant Cities," "Architect Unknown," and "Exeunt." Way cool uplifting stuff for fans of pop and totally groovy guitars. We just can't get enough of this one... TOP PICK.


Little Lonely - Little Lonely (Independently released CD, Pop)
Little Lonely is the band name created by Julie Cain who was born in Missouri but now lives in Los Angeles, California. Cain's debut full-length release was produced by Sean Hoffman and features a wealth of talent from the Los Angeles area. The songs on this self-titled album combine sounds and ideas from folk, pop, and Americana. What probably stands out most here is the impressive restraint on these recordings. Instead of clobbering the listener over the head with layers upon layers of stuff...these songs are presented simply and have a nice open sparse sound that is ultimately appealing and real. And speaking of real...Julie's voice comes across sounding particularly real and inspired. Eleven tracks that recall the simplicity of times gone by. Our favorites here include "Penny's First Available," "The First Time You Left Me," "Little Lonely's Lament," and "Old US 40." Truly heartfelt stuff.
The Loomis Fargo Gang - The Prettiest Shade of Blue (Independently released CD, Folk/soft pensive pop)
Nice smooth sparse subdued folky pop from the folks in The Loomis Fargo Gang. These guys compare their music to artists like Real Estate, Wilco, The Avett Brothers, and Michael Hurley...and we can hear traces of all these and more in their music. The songs on The Prettiest Shade of Blue are centered around gently strummed guitars and feature vocals with plenty of reverb added for good effect. These are not the kind of songs that smash you over the head on the first spin. Rather they kinda creep up on your subconscious and take up permanent residence in the back of your mind. Eight tracks that clock in at just under 30 minutes. Our favorites include "Seventeen White Azaleas," "Birds," "Sugar Cane," and "Plantin' Blueberries." House in a beautifully designed cardboard foldout sleeve complete with cool lyric booklet. Neat sounding stuff.

The March Divide - Music For Television (CD EP, Dead Letter, Pop)
We enjoyed the last disc that we received by this band (Music For Film), a project that apparently required a great deal of effort as it was bandleader Jared Putnam's first attempt to produce his own music. If that was the album that provided the learning curve, then Music For Television is the disc where all the pieces came together exactly as they should have. Clocking in at just over 24 minutes, this disc features smart, upbeat guitar-driven pop tunes with plenty of punch and sparkle. New band members Mike Hernandez (drums) and Jeremy Brooks (bass) provide the perfect rhythmic foundation for Putnam's inspired wordplay. All seven of these tracks pack a punch...but our own particular favorites include "Like I Do," "So It Goes," "Write Of," and "Duplex."
Shannon McNally (Live performance, May 23, 2013, 3rd & Lindsley, Nashville, TN)
Two months ago we had never even heard of Bobby Charles. Now his name is forever embedded in our memory thanks to Shannon McNally and her band. We were fortunate enough to catch Shannon playing recently at 3rd & Lindsley (one of Nashville's finest small music clubs). Shannon has been writing and recording music for several years now. For her latest album (Small Town Talk), she chose to record cover versions of songs written by Bobby Charles who is probably best known for writing some hits in the 1950s and 1960s that were made famous by artists such as Fats Domino and Bill Haley & The Comets...plus he appeared with The Band for their concert recording The Last Waltz. Charles himself was involved in the planning of McNally's album and helped to select the material before he departed this earth in 2010. McNally and her band are out now playing shows to promote the album...and man oh man are they good. If you love classic bluesy soulful pop music you won't do much better than this. Shannon's band is absolutely top notch all the way...each player was as solid as a rock on their instrument. And if you think McNally's voice sounds incredible on her new album...then you'll be blown away because in person she sounds even better. Shannon was playing in somewhat of a difficult slot this evening...being the earlier of two shows on a Thursday night. As such, there were only a few dozen folks in attendance...but those who were present that evening were treated to a very special performance that they will remember forever. This was a great concert in so many ways. First...the sound was exceptional. We've yet to see any artist play at 3rd & Lindsley who didn't sound great. Second, the playing was about as tight as it gets. The drummer and bass player were in perfect synch with one another. The guitarist was absolutely dynamite...adding additional dynamics and filling in all the holes at just the right moments with cool atmospheric sounds. And the keyboardist and harmonica player added just the right amount of extra zest to the overall sound. But it was McNally's presence and personality that were center stage...and she proved that with the right amount of luck...she could easily become a hugely successful artist. McNally has a great onstage personality...always coming across like a genuine person rather than a celebrity. The vast majority of the show was culled from Small Town Talk and that was just fine with us (we had already played the album into the ground prior to seeing this show...highly recommended listening by the way...). We went to this concert liking McNally...but left feeling completely blown away and forever impressed. If Shannon and her band play anywhere near you, do yourself and favor and go hear them play. You will not be disappointed. TOP PICK.


---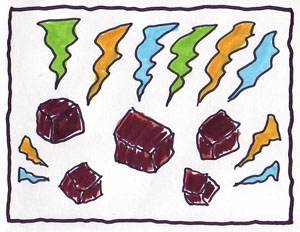 MEAT STINKERS
Ingredients:
1 lb. Fresh Veal Meat
1 lb. Fresh Quail Meat
1 lb. Fresh Pig Meat
1 lb. Fresh Midget Meat
1 Quart of Stink
3 tablespoons Molly Oil
2 cups Common Cheese Blobs

This is a QUICK and EASY main dish you can cook up in minutes when you're short on time, short on money, short on ideas, or short on ingredients. To begin, grind up the FRESH VEAL MEAT and FRESH QUAIL MEAT and politely smush it into the bottom of a greased glass bowl. In a separate bowl, grind up the FRESH PIG MEAT and the FRESH MIDGET MEAT and set it aside. Using a slow and steady spinning motion, add the QUART OF STINK to the first bowl making sure not to lose any of the fresh magnetic energy. Then sprinkle in the MOLLY OIL and mix generously. Allow both bowls to sit for 48 hours in direct sunlight. Then combine the contents of the first bowl with the contents of the second bowl and massage with feverish intensity until everything is all squished up tight. Then slop out little blobs of stuff in tiny individual piles on a large metal cookie sheet until it is all used up. Make 'em in swell cute shapes if you like. Bake at 500 degrees for three hours and serve piping hot. Then watch as your guests sway and delight at the wonder of freshly cooked MEAT STINKERS. The aroma is downright irresistible... Mmmmmm, mmmmmm....goddamn it all to Hell them damn things sure does taste good!
---
Sarah Gayle Meech - One Good Thing (Independently released CD, Pop/rock/country)
We weren't sure what to expect here. One thing is for sure...it's hard to ignore Nashville, Tennessee's Sarah Gayle Meech...she has a look and attitude that are bound to make an immediate impression. With her heavy black eyeliner, blood red lipstick, and arms that are literally covered with tattoos, you can tell this young lady considers appearance to be an integral part of her overall approach to music. So...with such a strong physical image...what kind of music could this girl make...? Folks startled by her appearance may be very surprised to find that Meech makes some mighty fine music that is immediately accessible and inviting. And man oh man can she belt out a tune. Unlike most current Nashville ladies, Meech is aggressive and sassy...and she's not afraid of really letting her voice rip. While most folks would probably describe this album as country, the songs are actually a lot more rockin' than that. But even when she tones things down a bit ("Foolish")...she still sounds magical. Meech either wrote or co-wrote all eleven tracks here. She's a super smart talented young lady with the potential to go all the way. Sarah has a great voice...a look that can't be ignored...and her songs absolutely command attention. Our favorite tracks include "One Good Thing," "Sound of a Heartbreak," "Movin On Song," and "Honey Put Your Money Where Your Mouth Is." Some observant record label (Curb?) could make a very smart move by signing this lady up QUICK (anyone over there at Curb reading this...?). Top pick.


Midnight Faces - Fornication (CD, Broken Factory, Pop)
Midnight Faces is the duo of Matthew Warn and Philip Stancil. Neither are newcomers to the world of music. Warn was previously in the band Saxon Shore and Stancil played in various bands before joining up with Warn. Fornication is the pair's debut full-length release. Recorded in Los Angeles with producer Jason Martin (of babysue favorite Staryflyer 59), the album features layers upon layers of instruments and healthy doses of digital reverb and other effects. The tracks on this album have an orchestrated swirling type of sound that is reminiscent of bands from the late 1980s and early 1990s. These guys are making music that could appeal to a large audience. These tracks are slick and professional...but they're also a bit inventive and trippy. Ten cool cuts here including "Crowded Halls," "Give In Give Out," and "Turn Back."
Dan Miraldi - The Freewheelin' (Independently released CD EP, Pop)
We sure were psyched to receive this in the mail. We've been absolutely NUTS about Dan Miraldi's last album (Sugar & Adrenaline) ever since we first heard it in 2012...and it's still one of our most played albums that remains in our trusty ol' yard sale cargo wagon. This Cleveland, Ohio-based singer/songwriter is simply...one of the best. This disc is somewhat of a space filler to please fans until (hopefully) Dan's next rock and roll album comes out (which we hope is very, very soon...). The Freewheelin' is a collection of acoustic guitar-based tunes...four of which are alternate takes from previous releases (plus two new songs). Like Marc Bolan, Miraldi has a presence that is undeniable...and he has the voice and personality to become hugely famous if all the pieces fall into place the way they should. True, we do love the rockin' stuff more...but these tunes are also welcome additions to this man's continually growing and impressive catalog. Our favorites include "Out Of Eden," "The Folk Singer Is Dead," and "Thirsty." We highly recommend everything that Miraldi releases...he truly is a genuine star in the making... Top pick.


The Multiple Cat - The Return of The Multiple Cat (CD, Guilt Ridden Pop, Pop)
We sure got an excited jolt when we opened up this package from the cool folks at Guilt Ridden Pop and found a new album from...The Multiple Cat (!!??!). We fell in love with this band back in the 1990s and have always felt that Patrick Stolley is one of the greatest underrated pop songwriters in the United States. Although his 1990s releases only found a limited audience, those who loved the music really loved the music...and Stolley's fans will no doubt be stoked as heck to find out he's recording and releasing music again as The Multiple Cat. Years may have passed...but this man's ability to come up with incredible flowing melodies anchored by smart and inventive lyrics remains intact. Jointly released by Futureappletree (Stolley's own label) and Guilt Ridden Pop, The Return of The Multiple Cat is most certainly a true return to style...and we can only hope that this time around more folks pay attention to this man's considerable contributions to the world of pop music. Eight kickass tracks here including "His Master's Voice," "The Hill Part 1," "The Flood," "Know Past, Know Future," and "The River." Highly recommended. TOP PICK.


Muuy Biien - This Is What Your Mind Imagines (Vinyl LP, Happy Happy Birthday To Me, Rock)
Hard rockin' stuff....oh yeaaaaaaaahhhhhhhhh... The guys in this band play like they mean it. Muuy Biien is comprised of Joshua Evans (vocals, bass, tape loops), Xander Witt (bass, guitars, tape), Robbie Rapp (guitars, bass), Jacob Lake (drums), and Tobiah Black (who is not on this record). This Is What Your Mind Imagines reminds us of underground guitar bands in the late 1980s and 1990s when folks were really getting raw and rough out there in the clubs. There's no attempt to clean up the sound, to appeal to a large audience, or to compromise anything here. These guys play loud rock music and they've got the right attitude and sound to pull it off. The band doesn't mess around as they toss off edgy rockers like "Another Degradation," "Emesis I," "Sister," and "Forward Motion." If you like it loud and hard this one's bound to knock your socks off. This disc should appeal to fans of Iggy Pop and The Stooges.
Joohyun Park - The Film Music of Michael Nyman For Solo Piano (CD, Buy Soundtrax, Piano/instrumental)
Intricate and expressive interpretations of film music composed by Michael Nyman as presented by Kwang-Ju, South Korea's Joohyun Park. Ms. Park received a Master's Degrees of Piano from Yon Sei University and a Bachelor's Degree of Contemporary Writing and Production from Berklee College of Music. She has also worked as a pianist, orchestrater, and assistant composer for several film soundtracks composed by Christopher Young. On this album Park plays unaccompanied...allowing listeners to take in all the subtle nuances of her exquisite playing. This album presents sixteen pieces composed by Michael Nyman...and Jooyhun's playing is emotionally moving from start to finish. Smooth absorbing cuts are presented from several films including The Piano, The Diary of Anne Frank, Enemy Zero, and more. This is an extremely limited edition release (only 1,000 copies are being offered for sale)...so you'd better grab one...quick.
Poor Young Things - The Heart. The Head. The End. (CD, Bumstead, Pop/rock)
Catchy and totally groovy upbeat buzzsaw pop from five guys who call themselves Poor Young Things. This is the band's debut album...and it's chock full of instantly familiar oughta-be hits. These guys play LOUD and HARD...but never at the expense of great hooky melodies. The songs on The Heart. The Head. The End. are delivered without extra frills or overdubs...which allows the listener to focus on the songs themselves. This band is comprised of Matt Fratpietro (guitar, vocals), Michael Kondakow (guitar, vocals), David Grant (guitar, vocals), Scott Burke (bass), and Konrad Commisso (drums). Produced by Jon Drew, this album has a nice slick sound without ever sounding overproduced. Thirteen gripping rockers here including "Dress It Up," "Strength In Numbers," "Black Lightning," and "Ghost Notes." Cool rockin' stuff with balls.
Joshua Radin - Wax Wings (Independently released CD, Pop)
The liner notes really caught our attention here as Josh Radin writes, "...in my past songs, I've referred to my love as the sun. I flew too close to that sun on wings made of wax, and when they melted, i fell, over and over again." So we instantly realized that Radin is a man of words. But when we slipped Wax Wings into our player, we also found that Joshua is also equally a man of music. The soft gentle songs on this album are reflective...very personal...and ultimately very memorable. Radin's got a great understated voice that occasionally recalls classic artists from the past like Cat Stevens. If you're the kind of listener who likes folky pop and issues of human involvement like romance...well then, you'll most certainly find a wealth of material you can appreciate here. Eleven well crafted cuts here including "Beautiful Day," "Cross That Line," "With Me," and "My My Love."

Yves Ramette - Cascading Into Reverie: Works for Piano & Works for Orchestra (Double CD, Navona, Classical)
The compositions of Yves Ramette as presented by pianist Eric Himy, the Czech Radio Symphony Orchestra, and the Netherlands Radio Philharmonic Orchestra. Sadly, Ramette passed away in 2012...but his music lives on. This French composer wrote harmonically and rhythmically driven music that has received a great deal of praise around the world. Cascading Into Reverie is divided into two discs/sections. The first CD features six works for piano...pensive, strange, slightly moody pieces that should appeal to folks who appreciate the more adventurous sounds that the ivory keys can provide. The second CD features three works for orchestra. So...depending on your mood...you can hear the subtle nuances of Ramette's compositions played solo on the piano...or as presented by a full orchestra. Either way, the experience is involved, enlightening, and intriguing. This double disc set is housed in a tri-fold digipak sleeve and also includes a booklet with extensive liner notes. Another welcome addition to the continually growing Navona catalog.
Jonathan Richman (Live performance, June 23, 2013, The Stone Fox, Nashville, TN)
When we heard that Jonathan Richman was playing at a small club in Nashville, Tennessee...well of course...we just had to go. We were turned onto this eclectic gentleman's music years ago when we picked up a copy of Rock 'n' Roll With The Modern Lovers at a used record store. The goofy oddball nature of the music was peculiar and hilarious...but it wasn't until we saw Jonathan play at a way-too-hip club in Atlanta, Georgia (688) that we completely and totally fell in love with his music. That night...before playing a late night concert before a crowd all decked in rock and roll attire...Jonathan did the unthinkable. He asked the lighting guy to turn OFF the spotlights...and turn ON the regular overhead lights...making the dark rock and roll club look and feel more like a lunchroom cafeteria. We thought that it completely spelled disaster...until Richman and his band began playing and almost instantaneously had the audience in the palm of his hand for the entire show. We left thinking...man oh man...what an incredible guy to be able to pull off such a feat. Unlike a lot of artists who change or alter what they're doing to suit a larger audience, Richman has always stuck to his guns...playing the game the way he chooses to. As such, he has remained one of the most consistent and credible singer/songwriters ever. His music combines elements from pop, rock, folk, and Spanish flamenco guitar playing...and the end result is something that sounds like no one else. We weren't quite sure what to expect from Jonathan in 2013...would he play the hits from long ago (which is what most folks probably want)...or would he play nothing but new stuff...? There was no way of knowing for sure. We arrived at The Stone Fox (a really cool small music club in Southwest Nashville) just minutes before the concert began...and we were immediately impressed that the show had sold out. How cool is that...? Even though Richman hasn't released an album in a few years his shows still sell out. But what surprised us even more was the audience. Instead of being a crowd of folks fifty and over (which is what we thought might be the case)...the club was packed with a surprisingly diverse crowd of folks of all ages and all walks of life (the majority of whom seemed to be in their 20s and 30s). Richman played material from his last few albums...choosing to forego playing his early songs or Modern Lovers tunes...and that was just fine with us. Don't get us wrong, we love, love, LOVE the early material...but this is a different time and place now and the newer songs somehow just seem more...relevant. The audience didn't seem to mind either...and once again...we were surprised as holy heck that no one yelled out any requests for 1970s material. Jonathan has aged like a fine wine...and he's sure looking and sounding great these days. He still has that irresistable stage presence that made us dig his music in the first place. And just like when we saw him playing in the 1970s...he had the audience in the palm of his hand from the very first song until the last. Beginning the concert with "That Summer Feeling"...Jonathan played a string of tunes that were all inspired and truly heartfelt. It's amazing watching this man play music. He seems to go into a strange trance while playing...utlimately coming across completely calm and relaxed...and yet managing to hypnotize virtually anyone who happens to be within hearing distance of his unusual stream-of-consciousness underground pop. For this show it was just Richman accompanied by his longtime drummer Tommy Larkins...an amazing musician who has been playing with Richman now for about 20 years. The two played for about an hour...and their positive vibes had the audience in obvious ecstacy. The only unfortunate thing about this show is that it was so hot and crowded that it made it difficult to move around much...and the oxygen level seemed to decrease with each and every song. But no matter...the sweaty club goers all got what they wanted...a great night of great music by one of the true originals in the world of music. It's funny...for a man who has been around for such a very long time...Richman still remains by and large an underground icon. And this has to be because he refuses to compromise or do the things that most folks do in order to gain more money and success. He may not be the richest and most famous musician on the planet...but in terms of real artistic success well...no one can beat Jonathan Richman. If you ever get a chance to see this man play, do it. You can always appreciate and enjoy the music on his albums (see album review below)...but the live performances are where he really, really SHINES. Top pick.


Jonathan Richman - O Moon, Queen of Night on Earth (CD, Vapor, Pop/folk)
This isn't a brand new release (it was actually released in 2010)...but because we missed out on this album when it was originally released we wanted to include a brief review here along with the concert review (above). Plus because...this album should have received much more attention when it came out. O Moon, Queen of Night on Earth is one of the most sparse and pensive albums we've heard from Jonathan Richman. And that's saying a lot...considering the fact that this man is one of the most influential pioneers of low fidelity pop in the United States. Richman is mainly known for his exquisite oddball sense of humor...but over the past few years his music has taken off in more of a subtle romantic direction...and the results just might surprise a lot of folks. Jonathan is probably best known for his 1970s releases on the Beserkley label. Later in his career he was (surprisingly...?) signed to Rounder...before finally finding his current comfortable spot on Vapor Records. This fourteen track album lasts just over 36 minutes...but there's a lot to take in here both lyrically and musically. The songs are presented simply without the use of overdubs and effects...this is mainly just a man and his guitar (along with percussion on some tracks). Richman's flamenco-esque guitar playing is particularly appealing...as are his heartfelt vocals. Few musicians can top this man in terms of sincerity and originality. In fact, Richman has very few competitors out there in the world because he has created his own unique niche. There are some funny and poignant moments here...but these songs are, for the most part, romantic folk ballads. If you've never had the opportunity to experience Jonathan Richman's music...this is as good a starting place as any. We would highly recommend any and all albums that this one-of-a-kind artist has released over the years. Once you're hooked on his music...you'll be hooked for life. Top pick.


Round Mountain - The Goat (CD, Red Shield Music, Folk/pop)
Round Mountain is the Santa Fe, New Mexico-based duo of Char Rothschild and Robby Rothschild. These two brothers write and record soothing melodic folk pop tunes that will no doubt remind many listeners of 1960s icons Simon & Garfunkel. The main emphasis on The Goat is songs...strong songs with memorable melodies and intelligent lyrics. Char and Robby have been making music together for the better part of the twenty-first century. We couldn't help but love the idea of an album being created using a goat as the idea for inspiration...goats never seem to receive the proper respect they deserve (we're not joking here, we mean that...). These songs combine elements from folk, pop, and Americana...and the delivery is always genuinely inspired. To top it all off, both of these guys have great resonant voices...and their harmonies are always spot on. Thirteen classy tracks here including "Without Fear," "Hundreds of Ships," "St. Joseph," and "The Goat." Cool.
Claudia Russell - All Our Luck Is Changing (CD, Radio Rhythm, Americana/folk/pop)
If you love beautiful voices chances are you'll totally dig All Our Luck Is Changing. Claudia Russell has a crystal clear innocent voice that is somewhat reminiscent of babysue favorite Mary Hopkin. This is Russell's fourth full-length release...and it features wonderfully resonant melodies that you won't soon forget. Recorded with her "trusty sidekick" Bruce Kaplan, these songs utilize traditional instruments. After hearing these songs a few times it becomes apparent that these folks are writing and recording music for all the right reasons. The songs combine elements from Americana, folk, and pop...and they're meticulously blended in such a way that the overall sound is completely warm and genuine. Russell and Kaplan also play together in The Folk Unlimited Orchestra...so they're both apparently very busy these days. Claudia has one of the best voices we've heard in years...so our guess is that over time she will end up being one of the more important classic successful artists in the twenty-first century. And yes...she is that good. Killer tracks include "Pirate Girls," "You Are The Light," "Charleston," "Follow Your Tail Lights Home," and "I Can't Stand The Rain." Top pick.


Sirsy - Coming Into Frame (CD, Funzalo, Pop)
If you loved the sound of Amy Winehouse's voice on her Frank album...but you dig an overall more rockin' sound...the folks in the band Sirsy will very likely blow your mind. This band is the duo of Melanie Krahmer and Richard Libutti...two folks who obviously have their eyes focused on the center of the target. The slick and accessible tracks on Coming Into Frame should please hoards upon hoards of music fans who want their pop played with balls and conviction...and a lead singer who can really belt 'em out. Grammy award winning producers Paul Kolderie and Sean Slade can be credited for creating the ultra huge solid sound here...and Krahmer and Libutti don't mind admitting how much these guys helped to mold their sound on this album. This may be a bit too conventional for artsy way-too-cool music fans...but for folks who simply want to turn up the volume and rock, well then...you're sure to get a major jolt out of this one. Ten sassy cuts here including "Cannonball," "Picture," "Lot of Love," and "The Cost of You."
Stuck In Love - Original Motion Picture Soundtrack: Score Composed and Performed by Mike Mogis and Nathaniel Walcott (CD, Varese Sarabande, Soundtrack)
This is a different sort of soundtrack that may appeal to a different sort of listener. Instead of the usual collection of orchestrated pieces...or familiar hits you've heard way too many times...the soundtrack album for the film Stuck In Love features score selections by Mike Mogis and Nathaniel Walcott along with some interesting pop recordings by other artists. Intriguing cuts are presented by Conor Oberst, Rio Bravo, Like Pioneers, Wallpaper Airplanes, Nat & Alex Wolff, Elliott Smith, Bright Eyes, Bill Ricchini, and Friends of Gemini (whew!). This soundtrack comes across sounding much more human and friendly than your average big production score. There's a nice flow to this album that is instantly appealing and cool. Seventeen tracks here including "Nosebleed," "American Man," "I Won't Love You Any Less," "The Calendar Hung Itself," and "Erica At The Door." Note that this album is being simultaneously released on vinyl...
Matthias Sturm - Luna Park (Independently released CD-R EP, Progressive pop)
France's Matthias Sturm impressed a lot of folks with his last release (Blood and Thunder). Not only was the album an underground favorite, but it even spawned the hit tune "Peace On Earth." This, the follow up disc, is a bit of a teaser as Sturm presents six songs that could be part of a rock opera planned for some time in the future. The tracks on Luna Park are somewhat reminiscent of David Bowie...but Matthias is by no means an imitator. Recorded at his home studio in France, these songs feature more of the wonderful winding melodies that were found on his last album. Intelligent lyrics...arrangements that are a perfect fit for each composition...plus a voice to die for...who could ask for anything more? Sturm is bound catch on in a big way in the years ahead...and this EP offers more proof of this fact. Highly recommended... Top pick.


---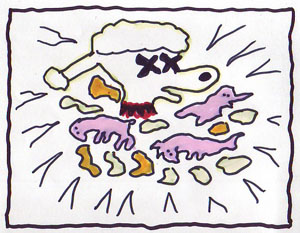 SUSIE WONG SPICY EMBRYO STIR FRY
Ingredients:
10 Freshly Removal of Embryos
1 Sniff of Embryo Spicy
1 Dollop Eye Fluid
1/2 Cup Oil Grease
2 Celery of Stalking
4 Barely Spared Onion
1 Head of Poodle Dog
1 Gallon of Special Ingredient of Not Knowing

This recipe one of all time favorite from Susie Wong, was making since long ago for many very important individual. First step is to obtain ten FRESHLY REMOVAL OF EMBRYOS from unnamed sources. Freshly embryo is crucial to success of very good dish. Scoop CUP OIL GREASE into best super large wok and allow for melting. Once wok very hot add embryo and allow to brown well. While turning for even cook, add in SNIFF OF EMBRYO SPICY and DOLLOP EYE FLUID. Toss embryo around for frequency while cutting and adding CELERY OF STALKING. While celery is for cooking chop up BARELY SPARED ONION and add to wok. Once all ingredient complete for total cooking, slowly lower HEAD OF POODLE DOG over top and allow to rest in semi-artsy position. Now shower with GALLON OF SPECIAL INGREDIENT OF NOT KNOWING. While dish is to steam being quick to distribute on each plate for happy consuming by many good friend. Dish always make friend plenty happy because of rich spicy flavor and very best natural organic for not so happy family.
---
Billy Talbot Band - On The Road To Spearfish (CD, Vapor, Soft pop)
You may not immediately recognize Billy Talbot's name...but you've almost certainly heard of Crazy Horse (Neil Young's backup band). And if such is the case, then you're already familiar with Talbot's music...because he was one of the founding members of Crazy Horse. Earlier this century Talbot formed the Billy Talbot Band...and this is the band's second full-length release. The title comes from the city in South Dakota where Billy and his wife now live (they restored a homestead there). We would normally describe this music as Americana...but considering the fact that this man was writing and recording this style of music long before such a category even existed...that somehow seems inappropriate. For a man who's been making music as long as he has, Talbot's songs sound particularly inspired here. On The Road To Spearfish features nine tracks of mid-tempo pop/rock played using only the essential ingredients. Billy's got a great understated way of singing that really makes his music shine. Produced by Talbot and Eric Haas, this album has the nice warm sound of some of the best analog recordings from decades past. Memorable reflective tunes include "Empty Stadium," "Big Rain," "The Herd," and "Ring The Bell." Nothing but nice solid tracks here with the best warm vibes possible...
Twins de la Soul - 2,000 Things (Independently released CD, Pop)
Previously known as the Belle Meade Dimension, the guys in Twins de la Soul are back...and they're both as incredible as ever. How could two men be so goddamn talented and smart...and handsome...? So few people know about these guys...but it won't be long before everyone is talking about 'em. Twin #1 plays piano and keyboards (and has the better beard of the two) and Twin #2 plays guitars (and is, admittedly, very small and tiny)...but the music sounds much bigger than what you might expect. There are 2,000 songs on this album...and they're all classics. We can't say enough good things about this disc. Actually, we can't say things about this album at all. To be more specific, we can't say things about things. Or, more importantly, things that mean anything. Things, things, things. There are things we want to say about this thing. But the thing is that the things we want to say aren't really things at all. But there are other things that are more important anyway. Things...things who need things...are the luckiest things...in the thing...
---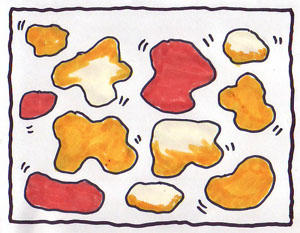 TOASTERED SUGAR BLOPS
Ingredients:
15 pounds of Sugar
10 pounds of Honey
12 pounds of Artificial Sweet Powder
5 Flower Things
25 pounds of Shortening Bread
1,057 Various Seeds From All Over The Stupid Place

Hoo way down dare has a sweet tooth? You duzz! I duzz! We AWE duzz! How do you treat that tooth so nice and good that it no longer aches...? Why, by making up and serving TOASTERED SUGAR BLOPS, of course, of course...! So let's stop SCREWING AROUND already and get the goddamn ball in motion then. C'mon along and hurry yourself up...before someone else gets theirs prepared first. Okay then, clean the kitchen floor REAL GODDAMN GOOD using some very special imported floor cleaner with perfect abilities. Then spread the SUGAR, the HONEY, and the ARTIFICIAL SWEET POWDER all over the floor. Now dance your nekkid ugly feet into all of it and mess it all over the place so that it all gets spread around real nice. Look down with a feeling of gentle dumb pride as a tear falls from your left eye. Then gently toss in the FLOWER THINGS while smushing up the SHORTENING BREAD so that it turns into a huge pile of lovely dumb crumbs. Now skip around in circles while daintily spreading the VARIOUS SEEDS FROM ALL OVER THE STUPID PLACE into the pile so that it appears to be even and real. Then slop the stuff into some large BLOPS on top of a metal sheet and place in your oven on broil for ten seconds. Serve piping cold and watch as all your nervous guests gulp down the calories...
---
To The Wonder - Original Motion Picture Soundtrack: Music by Hanan Townshend (CD, Lakeshore, Soundtrack)
To The Wonder is being received differently by different people...usually a good sign that there's something worth seeking out. Directed by Terrence Malick, the film stars Ben Affleck, Olga Kurylenko, Rachel McAdams, and Javier Bardem. The film involves romance and interpersonal relationships. The soundtrack features music composed by Hanan Townshend. If you're looking for loud and exciting film music, you won't find it here. The tracks on this album are subdued, highly stylized, and overall reflective in sound and style. Townshend uses music to enhance the romance and human issues that are dealt with in this film. Although we've yet to see it, our guess is that the music plays a crucial role in getting the ideas across in this movie. Fifteen pensive cuts here that clock in at just over 56 minutes. Our favorite compositions include "Awareness," "The Bison," "Peril," and "Marina's Theme - Overture."
Nicholas Vines - Torrid Nature Scenes (CD, Navona, Classical)
Based upon the cover art alone (various renderings of human beings with replaced heads of animals and insects) we had an idea that this was going to be a different sort of classical release. If you're only interested in hearing the safe and familiar sounds of the great masters of centuries past...Torrid Nature Scenes will probably be a bit too strange for you. Australia's Nicholas Vines is a composer of a different sort whose music lies somewhere in the area where classical meets experimental and modern classical. Although very different in overall sound, some of the ideas on this album remind us of Frank Zappa's 200 Motels. These compositions are unpredictable and, for the most part, peculiar. Scenes presents both instrumental pieces as well as compositions that include strange operatic vocals. The album is divided into three sections: "The Butcher of Brisbane," "Economy of Wax," and "Torrid Nature Scene." This bizarre listening experiences is recommended for classical fans wanting something a bit more exotic and adventurous. Very cool.
We Are The City - Violent (CD, Hidden Pony, Progressive pop)
The guys in We Are The City impressed a lot of folks in 2009 (including us) with their debut full-length release A Quiet World. Since that album came out the guys in the band have been through a lot...which explains why it has taken four years for them to release their second full-length, Violent. But the good news...is that all the things we loved about the band remain intact. Plus...there are all kinds of new layers and dimensions happening now...that make the music even more riveting and mind-boggling. It only took a couple of spins for us to realize that this is probably going to end up being one of the best albums released in 2013. The songs on Violent are complex...yet they come across sounding very accessible and friendly. It's hard to describe this band's overall sound...and even more difficult trying to compare their music to other artists. In some ways, the vocals on the album are slightly reminiscent of Russell Mael (Sparks)...but not really. Whoever they do (or don't) sound like...they sound killer. A great deal of time and energy was obviously spent recording these tunes...and the attention to detail is incredible. Ten killer cuts here including "Bottom of the Lake," "King David," "Everything Changes," and "Punch My Face." Highly recommended... TOP PICK.


Wiretree - Get Up (Independently released CD, Pop)
It's always great to hear new stuff from the folks in the Austin, Texas-based band Wiretree. The band was originally a one man project created by Kevin Peroni but now also includes Joshua Kaplan (guitar), Rachel Peroni (bass), and Daniel Blanchard (drums). Get Up is the fourth full-length release from these folks...and it features more of the uplifting guitar-driven pop that has garnered them so many fans over the past few years. The main driving force here is melody. These songs have great winding melodies that are intelligent, memorable, and ultimately very different. Although these songs can best be described as pop, they are by no means the bland sort of formulaic junk that has become the standard in the twenty-first century. This is yet another classic addition to this band's impressive catalog. Ten cool tracks here including "Marching Band," "Easychair," "To The Moon," and "When You Were Young." Top pick.


A
A Clever Con - Mannequin love part I
James Adler & Friends - James Adler & Friends
Africa - Original television soundtrack
A Good Day To Die Hard - Original motion picture soundtrack
Aina Haina - Aina Haina
Verden Allen's Soft Ground - Love you & leave you
BJ Anders and The Buccaneers - BJ Anders and The Buccaneers
Angry - Wild ox shangri-la
AnnaLee - Gatsby's green light
Animals At Night - Animals At Night
Aoede - Is love a fairy tale?
Apple Dot - Dot the dot
Aquarotten - Aqua is a rotten color
David Armo - Poets on the wall
Mike Arroyo Jazz Organ Trio - Full circle
Badi Assad - Between love and luck
Avengers - On a mission
B
Steven Bakur - Sooner than later
Matt Barron - Matt Barron
Offiong Bassey - Offiong Bassey
Beekeeper - Shout at people
Lilly Bell - Try to tune the goddamn thing
Jeff Berlin - Low standards
Big ol' Nasty Getdown - Volume 1
Jacob Blazer - I am Jacob
Jason Blum - Radio dial
Bolts - Wait 'til we're young
Bone of Contention - Bone of Contention
Greg Boring - Heavy syrup
Boss - Original television soundtrack
Brand New Trash - Brand New Trash
Breadwinter - Breadwinter one
Breaking Laces - Come get some
Dewa Budjana - Dawaii in paradise
C
Alan Callahan - Shower of grace
Camera - The panic and the permanence
Brooke Campbell - The escapist
Rob W. Carlson - You better call someone
Marc Carroll - Stone beads and silver
Steven Casper & Cowboy Angst - Trouble
Catbirds Say Yeah - Catbirds Say Yeah
Raquel Cepeda - I'm confessin'
Chapin Sisters - A date with the Everly Brothers
Chestnuts Roasting On A Stove - Dumb nuts
Chicago Arts Orchestra - Al combate
Kyong Mee Choi - The eternal tao: A multimedia opera
Churchwood - 2
Citadel Besieged - Creation/damnation
Nels Cline / Elliott Sharp - Open the door
Coastwest Unrest - High times on lowly streets
Preston Cochran - Stumble into tomorrow
Como Asesinar A Felipes - Comenzaras de nuevo
Convergence - The music of Stewart & Gershwin
Ryan Cook - Wrestling with demons
Copper Gamins - Los ninos de corre
Copper & Glass - Copper & Glass
Laura Cortese - Into the dark
Cosmic Suckerpunch - Breathe
David Courtney - Midsummer madness/Shooting star
Crankshaft and the Gear Grinders - What you gonna do?
Cross Connection - Selected works of Henry Wolking & James Scott Balentine
Crummy Band - This is the life worth dying for
Michael C. Cunningham - Gallry
D
Dances of Eternity - Works for orchestra
Dangfly - Good luck, curiosity
Death Songs - Sung inside a house
Diemakers - Detroit recordings
Dim Past - Black dolphin
Dio - Finding the sacred heart: Live in Philadelphia 1986
Dolls On Fire - Ladies and gentlemen...
Sarah Donner - Fossil of girl
Dorothy Doring and Phil Mattson - Compositions by Duke Ellington and Billy Strayhorn
Dream Logic - Dream Logic
Drgn King - "Holy Ghost" b/w "Son of Wolfman"
Gordon Duthie - Shire and city
Mia Dyson - The moment
E
Eggs Are Eggs - Drippy thugs on corn
Eksi Ekso - Archfiend
Amos Elkana - Casino umbro
Electric Shepherd - The imitation garden
Holly Elle - Leopardess
El Perro Del Mar - Pale fire
Emperors of Wyoming - Emperors of Wyoming
Richard Tyler Epperson - Falling between the stars
Glenn Eric - Blanket of stars
Gene Ess - Fractal attraction
Every Day Is Picture Day - Every Day is Picture Day
F
Fabulous Rudies - Labor of lust
Faco - Em si bemol
Fat Opie - Victoryville
Stephen Fearing - Between hurricanes
Julian Fernandez - Mi conciones
Michael Feuerstack - "Shadow" b/w "Wolves"
Fletcher - Open arms
Focus Features 10th Anniversary - A collection of film score
Lisa Forkish - Bridges
Olivia Foschi - Perennial dreamer
Josephine Foster - Little life
Further To Fly - Wave mechanics union
Fussy Fussy - How many things can go?
G
Holly Gentry - So much more
Georgia's Horse - Weather codes
Susie Glaze & The HiLonesome Band - White swan
Go Around - Restating the question
Mac Gollehon - La fama
Go Time! - Tight like wood
Jess Grant - Innocent invader
Grassmarket - You are for the ocean
Great Divide - Great Divide
H
Halle & The Jilt - Three roads home
Kyp Harness - The wrong way
Harris Group - Errands
Haunted West - Postlude
Joe Henly - The fall comes early
Henry Wagons - Expecting company?
Pamela Hines - 3.2.1.
Hissing Makes Us Hissy - Hisses
Dillon Hodges - Rumspringa
Holy Folk - Motioning
Home By Hovercraft - Are we chameleons?
Hunter - Pressure
I
Il Sogno del Marinaio - La busta gialia
Inside Insects - How we done got ate up
Intestines - The force is forceful
Invader - Original motion picture soundtrack
Issy Missy Pissy Woss - Widdle biddle noodle poodle
J
The JAC - I see things differently: Greatest Xmas Hits Vol. 1 2001-2012
The JAC - Record store
Jackpot Donnie - Mayday!
Craig Jackson Band - Sweeter songs
Jim Jacobi - If the show fits...
Jeepers Jeepers - The whopper in my panties
Alan Jeffries - Coffee 'til midnight
JLStiles - Presents house of murmurs
Lynn Jolicoeur and the Pulse - World behind your eyes
Shawn Jones - Struggle makes you stronger
Jumpy Jerks - Jumpy on the beddie bye
JZ's Bobo Truck - Baddest in the binto-box
K
Red Russell Kamp - Night owl
Judy Kang - Judy Kang
Brendan Kelley - Quicksand
Lili Kendall - Beginnings
Killigans - Another round for the strong of heart
Kinky Boots - Original Broadway cast recording
Aarison Kirby - Aries
Zack Kouns - The Deacon family tree
Gerald Krampl - Wonder way
KuKu - Dumma kawwa muh kookoo
L
Shannon Labrie - Just be honest
Lady Antebellum - Own the night world tour
Lady Antebooboo - Own the day tiny tour
Dave Lalama Big Band - The Hofstra project
Daniel Lantz Trio - Plays Bond
Lapland - Lapland
Juan Sebastian Lach Lau - Islas
Kait Lawson - Until we drown
Lead Mule - Lead Mule
Aaron Lebos - Reality
Lee Boys - Testify
Jim Libby - Made in USA
Life of Pi - Original motion picture soundtrack
Lift - Lift
Frances Livings - The world i am livings in
Loveskills - Multiplicity
John LT - Suburban superstar
M
Andy Macintyre - Ruby
Brad Mackeson - 1945
Madonna & Rose - Bank cormorants
Magic City - Songs and score from the series: Score by Daniele Luppi
Tim Mahoney Band - Shine through
Marbin - Last chapter of dreaming
Marina - Believe in love
Adam Marsland - The owl and the full moon
Bex Marshall - House of mercy
Michael Mauldin - The last musician of UR
Alison May - Earnest keep
Ian McFeron - Time will take you
Memoryy - Electric city
Michael and the Lonesome Cowboys - Bottle cap sky
Midas Fall - Wilderness
Gabriel Minnikin - Parakeets with parasols
Mood Indigo - Symphonic music of Erik Lotichius
Tom Morgan - Orange syringe
Morningbell - Boa noite
Moto Perpetuo -Moving works for cello
Moxi - In my dreams
Muy Cansado - Let it go
Myopic - We were here
Myrasky - License II love
N
John Nagle's Distractions - John Nagle's Distractions
Ned Van Go - Lost in the trouble
New Day Dawn - Rise above this
New Standards - Sunday morning coming down
Karen Nielsen - Woman
Ninners are for Ninners - Something for dinner
NocturnalSol - In this together
No Escape For The King - 13 fjords
Nowherenauts - Warned you
O
Robin O'Brien - Dive into the end of the world
Ocean Floor - Falling star castle
Onoono - Yokoyoke
Oops - See daisy
Orflop - Bannie toe wishes
P
Paper Beat Scissors - Tendrils live at St. Matthew's Church
Paper Bird - Rooms
Paperhaus - Lo hi lo
Para Vista Social Club - Scott & charlene's wedding
Charlie Parr - Barnswallow
Matthew Patrick - Blue sun
Rodney Patterson - Love > fear
Nick Peay - Feathers & fables
Perceptions - Points of oview for small ensemble
Dan Phillips BKK Trio - Bangkok edge
Garrett Pierce - City of sand
Paul Pierce Project - Pierce my heart
Pine Barons - Pine Barons
Pint of Pint - How to quart the quart
PLS PLS - EP EP
President Lincoln - The sinking of the President Lincoln
Pretty Little Demons - Flowers
Mark Andrew Pudas - Mark Andrew Pudas
Q
Quick & Easy Boys - Make it easy
Quiet Parade - Old haunts
Q utt - Bras for no one
R
Red Dawn - Original motion picture soundtrack
Red Sammy - These poems with kerosene
Edward Ricart / Tim Daisy - Yiu ja ley
Marga Richter - Poetic images beyond poetry
Troy Roberts - Nuu-jive 5
Rob Roper - The other side of nowhere
Rockabye Baby - Lullaby renditions of Blur
Rockabye Baby - Lullaby renditions of Muse
Rockabye Baby - Lullaby renditions of Rush
Peter Rodocker & So It Is - We're still here
Arrica Rose & The . . . 's - Lucky
Rose Phantom - Abandon
Rumper Rump - How to dump the rump
Run 8 Rider - Tenderfoot
S
Arian Saleh - Undone
Micky Saunders / Dan Susnara - Known & better tomorrows
Save The Date - Original motion picture soundtrack
Garrett Sawyer - Chronicles and vanity
Marcus Schwartz & Monvelyno Alexis - Vo-duo nou la
Scott & Charlene's Wedding - Two weeks EP
Second Wind - Eudora
Secret City - Secret City
Seven Psychopaths - Original motion picture soundtrack
Shakespeare's Memory - Shakespeare's Memory
Sideman Sez - A Rob Loyot project
Silver Linings Playbook - Original motion picture soundtrack
Keaton Simons - Beautiful pain
Skiggy Rapz - Satellites
Smith III - Diamond in a rock
Smoking Flowers - 2 guns
Snitch - Original motion picture soundtrack
Alex Snydman - Fortunate action
Spellbound - Captivating works for orchestra and large ensemble
Jeffrey Stadelman - Messenger and other works of Jeremy Stadelman
Stand Up Guys - Original motion picture soundtrack
Stomacher - Clara
Stone Foxes - Small fires
Nora Jane Struthers & The Party Line - Carnival
Sugarman - After the blackout
Summarily Dismissed - To each!
Summer Hours - Closer still
Sunshine - Sunshine
Super Zeroes: Get Awesome - Soundtrack and movie
Swallows - Witching & divining
Phil Swann - Age of opportunity
Sweet Honey in the Rock - A tribute
Sweet Knievel - Collapsible
T
20 Something - 20 Something
2 The Nines - Oblivion
Aly Tadros - The fits
Tapestry Ensemble - New York moments
This Is Thunder - 10" Vinyl EP
Thought Transfer - Light my way
Tomfun Orchestra - Earthworm heart
Jay Trainer Band - Jay Trainer Band
Chandler Travis Three-O - This is what bears look like underwater
Joe Treewater - The ice cream social
Nicholas Tremulis Orchestra - For the baby doll
Tune Into My Mind Radio - A tribute to multi-talented vocalist Kelly Keeling
Two Hours Traffic - Foolish blood
U
UFU - Mozie
Up The Up - Down down down
Urp - Slop it up with a mop
V
Bobby Jo Valentine - Home
Various artists - Made IN Iceland VI
Various Curelties - Various Cruelties
Jacob Varmus - Terminal stillness
Thisbe Vos - Under your spell
Vulnerable - We're not
VYIE - Nightingale
W
Tim Warfield - Jazzy christmas
Way Back - Way Back
Hope Wechkin - Leaning toward the fiddler
Whitewater Ramble- Roots & groove
Widowmaker - Widowmaker
Wig Party - Glass girls
Ira Wiggins - When freedom swings
Wiggy's Popo - Flowers for Wiggy's Popo
Sterling Witt - Sterling loves U
Rustsy Wright Band - This, that and the other thing
X
XXX Means Dull - Pornography stinks
Y
Yacht Rock Revue - Yacht Rock Revue
Your Future Lovers - Eat. play. leave.
Yup - Nope
Z
Zamora Rose Project - Stand true
Zeezee - Weewee
Zzinn - Wullywoo